Sunday, August 27, 2006 - 2:52 PM

Random Things.






A short but sweet MV created by Tokaysoul. I uploaded a few clips from Golden Faith onto youtube. Just go to this Link. It is Vietnamese Dubbed.



---
Friday, August 25, 2006 - 3:29 PM
Song of the Day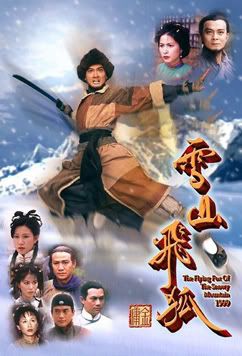 Jackie Cheung - Flying Fox of the Snowy Mountain Theme
Labels: Flying Fox of the Snowy Mountain, Song of the Day
---
- 1:35 PM
War & Destiny Screen Captures - Episodes 29 & 30 - END

War & Destiny Gallery
Labels: War and Destiny
---
Wednesday, August 23, 2006 - 3:29 PM
War & Destiny Screen Captures - Episode 27
Episode 27 & 28
Labels: War and Destiny
---
- 12:41 PM
Thoughts - Dance of Passion Episodes 17-21 [13 - 16]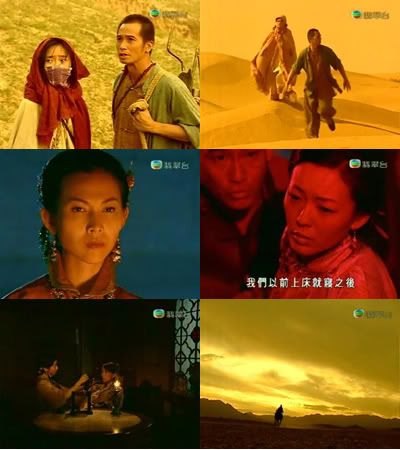 Episodes 17, 18, 19, 20 & 21 galleries are done. I noticed that the DVDs that I rent doesn't have the yellow tint compared to the Chinese ones I have. I much prefer the yellow tint.

Finally some drama! Dance of Passion is becoming more intriguing. Before, I felt like an observer and I didn't really care for any of the characters. Now, I'm really getting into in to it. Thank goodness there are not many Kenny & Maggie scenes anymore. I dread Kenny scenes. Especially his little chats with Moses which are utterly boring and pointless.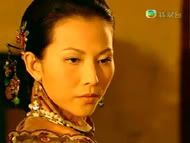 "I wanted to keep the news about Chun Fen being abducted on the low but Tung Yeung goes around telling everyone. I brought Chun Fen down the mountain to avoid rumors. But the Heavens is not lavishing us water. And now house burnings. What can I do now?" I pity Jiu Yuk, no one really understands her and her intentions besides Man Hei. She tried her best to save Chun Fen but bad luck just got the better. There was really nothing left that Jiu Yuk could have done. Ting Hiu's death came so unexpectedly that it serve Jiu Yuk a huge blow. Jiu Yuk lost all direction in life. It is going to be interesting to see how Man Hei assists Jiu Yuk during her most difficult time.


I am disappointed with Tung Shing. He wants to avenge for Siu-Cheuk but has no plan. Even more stupid, he has no factual proof that Man Hei is the one who violated Siu-Cheuk. Heck, Man Hei doesn't even fit the description of 'jeung bui,' Tung Shing just assumes it is Man Hei because of his prejudice. Like what Mao To told him, "For revenge, you lose your friends. For revenge you lose your lover. So what if you succeed? In the end, what do you have left?" Siu Kam is probably lying to him so he can stay with her!


Kwok Yip is a foul and repugnant old man. He appears to be a peaceful old man who spends his time leisurely who could careless about what is happening in the world but he really understands clearly what's going around him. He wants Man Hei as a puppet so he can control him. I think this man has issues. Something must have happened to him in the past to make him such a controlling, no disobedience-tolerance man. I hope more is revealed about this creep in later episodes. I don't think he'll just leave like that.



I am disappointed that they didn't reveal much about Florence Kwok's character and what happened to her during those years.
I am even more disappointed her total screen time lasted only 5 minutes. What a waste of a talented actress! I wished they would have elaborated more on Florence and her story with Mark Kwok. Mark Kwok looks so attractive. His character seems very interesting too.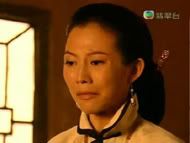 I thought that scene when Ada was crying and cursing at the ancestors was a bit weird. I don't think it is Ada's fault. It is probably the director or someone trying to make the scene dramatic. It's just like the scene when Yu Yuet was begging Tung Yeung for forgiveness while she was being dragged on the ground. It's just awkward. However she absolutely nailed the scene when she held Ting Hui's hand crying. Also the scene when Man Hei came to Tung Hiu's funeral. Her lips and everything were trembling.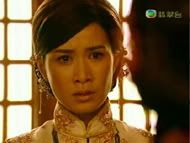 Charmaine Sheh's crying scenes were done well. I think Charmaine captured the innocence of Chun Fen very well. She has some chemistry with Moses too. On Episode 18 when Ming Fung wanted to run into the building that was blazing with fire was very touching. Gigi Lai did well in that scene. Other than that, she did not have much screen time. Bowie Lam remains the same. Man Hei loves his wife so dearly. Man Hei grasps onto the hope that his wife is still alive and is somewhere out there. You'll think that when they finally reunite, Man Hei would be totally speechless when they meet and he'd be shocked with tears. However it wasn't like that. Bowie didn't even look happy or teary. That scene could've been better.

Labels: Dance of Passion





---
Tuesday, August 22, 2006 - 4:53 PM
War & Destiny Screen Captures - Episode 26

Episode Twenty-Six
Labels: War and Destiny
---
Monday, August 21, 2006 - 3:40 PM
War & Destiny Screen Captures - Episode 25

Episode Twenty-Five
Labels: War and Destiny
---



- 2:03 PM

TVB Actors in the Limelight : Veterans



Intro: I am one of the few fans who pay special attention to supporting actors. I feel that having a great supporting team boosts up a quality of a series and makes a series more enjoyable. Unfortunately, supporting actors usually do not receive the recognition they deserve. Despite that, some remains loyal to TVB and continues acting because it's their passion. Today, I'm going to acknowledge these [former] supporting actors.


Some of you might recognize this former TVB actor. He has played many roles during the 90's. You might remember him from A Matter of Business where he played a witty and conniving character or Journey to West II, where he played Derek Kwok's sidekick. I think the role people would remember him most is in Burning Flame where he trained Wong Hei and others into firefighters. I think Danny Summer is an extremely versatile actor who has a strong presence on screen. He does not act anymore and is currently working on his singing career which is not surprising since he entered the entertanment industry from singing in 1979.


Ah Wai might not have the looks but he certainly always nails his performances. I think he is very fun to watch on screen. You know, some people just have that charm to them that makes them so likeable. Ah Wai is appearing on screen much less than before and the characters that he has been receiving are becoming less and less important. Just look at Safe Guards and War & Destiny. I hope TVB treasures this talent that they have in their hands and use him well.


Ah, the no other than Liu Kai Chi. He is a fantastic actor! He's been acting since the 80's! His roles in the 80's are more substantial in the past than now. He did very well in Ultra Protection. In Ultra, he plays a loyal gangster who has difficulty providing a stable life for his girlfriend and daughter. If I'm not wrong, he is currently acting for ATV. After the death of his son, I don't think he'll return to TVB any time soon since TVB pays very cheap.



Paul Chun is probably the most well known veteran. His performances are always consistent and solid. He has appeared in many grand production such as At the Threshold of an Era & Secret of the Heart. He is appearing less in TVB series but nevertheless, he is still acting. I don't think the roles that he's been getting lately challenges him in any way though. You can always count on him and his acting.


Wong Wai is one of the few actors who are able to naturally emit a noble aura. This is why he is so suitable in ancient series. He started off his career in ATV in the 1970's and in the 1990's, he left ATV and joined TVB. Many people consider him one of the classic villains because of his phenomenal performance in State of Divinity 96. He is exceptionally great in State of Divinity 96 as Jing Yong's classic villain, Yue Buqun. His conniving looks and smirks are so convincing. Even though Wong Wai always emits a noble aura, he is still superb in villain roles. Wong Wai has retired and is currently enjoying a peaceful life in Vancouver, Canada.


Law Lok Lam is the first to play Yeung Guo in Jing Yong's Return of the Condor Heroes in 1977. I have not watched that version of Return, because it is just too rare. Law Lok Lam is the perfect actor to play semi villains. He has the deadly eyes that can knock you off your feet. He is still acting for TVB although he appears very scarcely. He said in a recent interview that he will stop acting when producers stop giving him roles. So the chances of him retiring are very slim.



Poon Chi Man appeared in many series during the 90's. He has taken part of many grand productions such as Cold Blood Warm Heart, Journey to the West, Demi Gods & Semi Devils 97, etc. He does not act anymore. If someone can kindly tell me what he's doing now, it'll be great. I think Poon Chi Man is very suitable in ancient eras. He scarily shares a close resemblence with Waise Lee.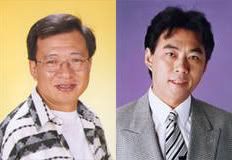 Hiu Shiu Hung is a recognizable veteran among the younger generation as well. Like Ah Wai, I also think he has the likeable charm to him. He is appearing in many TVB dramas now. I think he always has great chemistry with his co-stars, whether son-to-father or friends espeically with Roger Kwok. Tai Chi Wai is so well known for always playing the gangster roles. I must say though, he is best fit for the leader of the mafia. He no longer acts for TVB anymore.

Additional Comments: I absolutely adore all these veterans! I surely do miss their presence in series. All images are from this Link. That site has a vast number of pictures and the actors' names. From main to the last bystander, you name it. I will continue this feature to more actors who are younger and receive slightly bigger roles.



---
Sunday, August 20, 2006 - 3:58 PM
War & Destiny Screen Captures - Episode 24
Episode Twenty-Four
Labels: War and Destiny
---
Saturday, August 19, 2006 - 10:08 AM
War & Destiny Screen Captures - Episode 23

Episode Twenty-Three
Labels: War and Destiny
---
Friday, August 18, 2006 - 11:25 PM
War & Destiny Screen Captures - Episode 22
Episode Twenty-Two
Labels: War and Destiny
---
- 1:03 PM
Thoughts - Dance of Passion Episodes 9 -16 [7-12]


Tung Yeung and Ming Fung have the honour for being the two most sheep-ed brain and most annoying characters. I wanted to scream and shout in their face and shake them to get them to wake up from their simplistic way of thinking. They have lived in this community for a long period and yet they think people will think Chun Fen is clean after being abducted. Okay, with Ming Fung, it is forgivable since she studied elsewhere for a period of time. But is Tung Yeung that naïve? This guy only has the rashness but not the brains. After Chun Fen was punished to do the "kneel & 3 bows," Jiu Yuk said "I daresay the days a head of Chun Fen will be more difficult." Tung Yeung replied saying, "What do you want to do to Chun fen?!" I was like, 'woaah,' so quick to snap back eh?' All Jiu Yuk was doing was stating a fact but Tung Yeung was so quick to snap back and accused her of wanting to harm Chun Fen. That is the sole reason why they are annoying. They are so keen to snap back and miss the point being said. All in all, I have to say these characters only have the mouth to yell at people but no actions! So much for "helpin" Chun Fen! More like making her life more difficult than it already is!



Do they share the resemblance? At least Kenny does a bit. They are so quick to bite off peoples' heads.


The more I watch Dance of Passion, the less evil I think Jiu Yuk is. All her actions are to keep her family's reputation good, prepare the best for her son's future and to protect herself. She did not commit any actions so far to make me dislike her. I like her patience and tolerance also. If I was her, I would have kicked Ming Fung out of my house ages ago. I like how she works her brain around things to solve problems.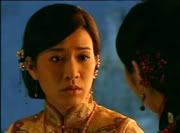 I pity Chun Fen for being put to ignorance of everything that is happening to her. When she told Gwai Lan about how she is confused with who it was who slept with her that night. Gwai Lan replied saying, "These type of things you have to go and ask ME? He's your husband, these types of things you should know!" Like what Tung Sing said to Tung Yeung. Even after all the bad luck that occurred on Chun Fen, Chun Fen did not lose her good heart and good nature. Poor Chun Fen, she is always taken out as a scapegoat for everything that goes wrong.


I dislike this woman more and more! From simply adoring her directness and boldness to stand up for herself as a woman to hating her guts and what-I-do-is-right thinking. Why must she always assume everything? Why does she always think she is right? She assumes Jiu Yuk wants the worst for Chun Fen when all Jiu Yuk is doing is thinking for the better of Chun Fen and her future! She is always questioning peoples' intentions. I am also thinking why must she make her apologies sound so insincere and rude? What annoys me is the way this woman talks to people. Just the way she talks to Jiu Yuk, Man Hei, Tung Sing, comes off so rude and even to the point of being b----y. She questions and yells at everybody. For example, when Yu Yuet was burning Chun Fen's clothes, Ming Fung was so quick to snap back and assumed that Yu Yuet was thinking Chun Fen is 'dirty.' The only thing I like about her is she makes a good friend.


I like Man Hei. He is not the tough cookie he appears to be. Tung Shing on the other hand is becoming disappointing. He wants to avenge for his dear Siu-Cheuk but he did not do anything clever or damaging yet. I feel sorry for him for always being beaten up. Even though I think Tung Shing is quite useless, I like the way he cares for Chun Fen. Yu Yuet is a difficult character to understand. I really do not understand why she does what she does. Maybe it is because Maggie Siu once again did not dig deeper into her character. I find Gwai Lan and Kwok Yip the most fascinating characters. Gwai Lan already died. The more they reveal on Kwok Yip, the more interesting he becomes. Jiu Yuk's son and Mat To are the only useful and clever males in Dance.


The actor that plays Kwok Yip, Bowie's father is really good. The way he transforms his kind face to a rugged man is so good!

He looks like such a nice old man but really pernicious in disguise. He surely did fool me. Helen Ma is also so excellent. She is so wicked and spooky. Maybe it is because she already has the look so there really isn't much left to do. But she is awesome.



Ada Choi once again did not have much to do. But, I thought her flashback scene was done very well. Charmaine Sheh is doing a mediocre job. When she lost her baby was good potential scene to provoke some tears but she failed to do so. Kenny Wong is so bland with his acting. How did he get so much recognition with this useless character and flat acting? Tut, tut, it must be his body that's doing the trick! Maggie Siu does not impress me one bit. When she was begging Ting Yeung for forgiveness was so dramatic and very opera-ish done.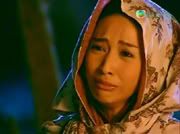 Gigi Lai started of strong but she falters afterwards. I completely loathe the way she talks. She pauses so frequently now when she talks. She says something, then pauses, continues, pauses and it goes on like that. She needs to get a move on it and speak faster. She is dragging the dialogues much longer than needed. Sometimes when she talks her body is completely postured straight, and her neck is still as a stone. The only thing that is moving is her lips. It's weird and awkward. The scene when Man Hei was shooting bottles and Ming Fung was behind him crying was done horrible. I did not see any tears at all.

I must praise the script writers for writing such deep dialogues and it is very poetic sometimes too! I thought the whole 'broken palm' thing is very clever. Kudos to the script writers! Here is an excerpt from Episode 11. This is beautifully translated by Funn Lim at Seh Seh's Blog!

The fate of those who lives on this Earth are determined by the Heavens and not by oneself,
It is said those who are fortunate shall be blessed with many children,
Those who are unfortunate shall have to learn to live with the taste of a life of a thousand sorrows
It is true
If you think that this is my story alone,
I can assure you,
I am not alone in the world of the unfortunate ones.
But the more the Heavens dictate on me an unfortunate fate,
The more I do not believe in fate
Even if the lines on my palm are broken,
I shall use this palm to pave my own path
Because I believe my fate is not determined by the Heavens,
But by oneself.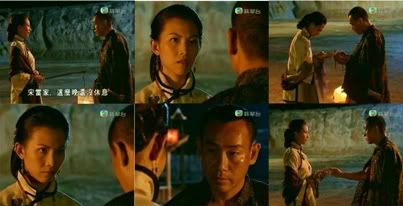 The sparks between Ada and Bowie just shot off like the firecrackers in the background. Okay, I'm exaggerating but I'm really interested in the relationship. There is so much mutual understanding.

Quote Mania

I must let all the men know, even if women lead a more difficult life, we are still capable of smiling above you! - Jiu Yuk

Everyone has secrets, we don't need to know, and we do not need ask. - Jui Yuk

I do not believe in fate. Sometimes when you make a mistake, fate just becomes an excuse for you to take the easy way out. - Ming Fung

It's difficult to dictate something wrong or right from first impressions. – Mat To

Sometimes when you hold onto something for so long, you might not even know exactly what it is you're grasping on. It is only when you choose to let go, does the picture become clear. – Mat To



Dance of Passion Screen Captures Episode 16








Episode Sixteen



I've decided, I'm going to fix up my DOP gallery and delete some images. It's bothering me so much.

Labels: Dance of Passion





---
- 11:17 AM
War & Destiny Screen Captures - Episode 21

Episode Twenty-One
Labels: War and Destiny
---
Thursday, August 17, 2006 - 9:07 AM
Face to Fate - To Watch or Not To?
Reasons to Watch Face to Fate
Although I don't like Tavia Yeung or Nancy, the chemistry between Tavia-Raymond & Nancy-Derek is already sizzling from the theme video.
Great supporting casts [Fiona Yuen, Ah Wai, Derek Kwok, John Chiang, Mark Kwok]
The Gorgeous costumes and very unique hair styles!
Selina Li. I think she is improving quite fast!
Raymond Lam turns evil. This is a must see. I think he did fairly okay in Golden Faith & A Step into the Past.
Raymond Lam with white hair!
Reasons Not to Watch Face to Fate
Tavia Yeung. I'm afraid she'll let me down again and I'll dislike her even more.
Frankie Lam in his typical scholar, good-boy role. Bo-oring. Does he ever get sick of it?
TVB once again attempting to use special effects. *sigh* When will they realize their speical effects looks so ridiculous?
The whole Good vs. Evil plot. TVB is not so great with these plots.
The producer is Kwan Wing Chung who did Scavenger's Paradise, Net Deception & Placebo Care. I'm not a fan of any of the dramas.
A whopping 30 episodes with rather weak leads.
Face to Fate Theme Video
Labels: Face to Fate
---
- 6:07 AM
Song of the Day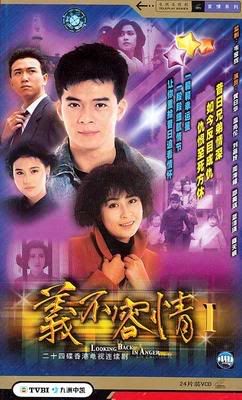 Danny Chan - Theme Song


Wong Kit - Sub Theme






Looking Back in Anger was a huge hit when it was released in 1988. I read somewhere that it had the highest ratings in the 80's and remains the most rented VCD of all times. Somehow I'm not surprised. Looking Back in Anger is an excellent series and the cast delivered nothing less than perfect. Felix Wong, Carina Lau & Deric Wan were simply flawless. The ending was the best part of the series. I won't spoil it for you, but the ending is beautiful.

Okay enough about the series. I think it is time TVB have real singers to sing their theme songs! Too bad Danny Chan is no longer with us today. Danny's "What do you want in life?" is a classic. Wong Kit's Sub is also amazing. I've heard many different versions of it but these remains the best!

Labels: Looking Back in Anger, Song of the Day





---
- 6:07 AM
War & Destiny Sceen Captures - Episode 20

Episode Twenty
Labels: War and Destiny
---
Wednesday, August 16, 2006 - 9:47 AM
Overview : Golden Faith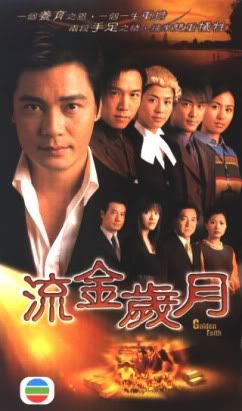 Producer:

Tommy Leung Kar Shu


No. Episodes:

45


Year Released:

2002


Casts:


Gallen Lo
Deric Wan
Jessica Hsuan
Raymond Lam
Michelle Yip
Paul Chun
Gigi Wong
Shek Sau
Anne Heung
Myolie Wu
Power Chan
Tavia Yueng



Comments


What makes this series memorable is not the plot itself, which I found very intriguing and nicely written, but it is the characters and relationships that are so profoundly written. Once you watch more of Golden Faith, you get to know these characters better, everything just becomes a journey. I must praise the scriptwriters for painting us such a vivid portrait of these characters that we come to understand their feelings and actions. The bond between the characters whether son to father, sisterhood, brotherhood, lovers are all powerfully written and acted out. The characters and rapports is one of the BEST written ever.



The Casts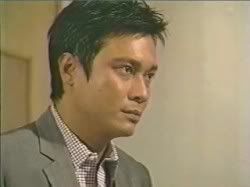 Gallen Lo gives Ivan so much depth and it is no longer I am watching Gallen Lo - the actor portraying his character on the screen, but I am watching this character and journeying with him as he faces problem after problem. He makes Ivan seem so real that sometimes I forget that this is only a series and this character does not actually exist. Watching Gallen Lo act, he emotes a heavy and suffocating aura like he could not sit down and breathe and relax. Ivan is a man with many responsibilities and baggage and burdens so naturally Ivan is a stressed and strained man. No novice actor will be able to emit such a tiresome and burdened feeling, only a very experienced actor like Gallen can do the magic. I really think Gallen is in his own caliber, and he is untouchable. He can exude so many emotions with simply his eyes alone, it is absolutely amazing. What a phenomenal, charming and lustrous actor. This was a great way to wrap up his whole TVB career before leaving.

Jessica Hsuan nailed her performance. Golden is one of the few, rare series that Jessica did well in. I thought the scene when she cried on the airplane is done very well. Myolie Wu is simply exquisite as Ivan's mentally ill sister. Her exaggerated and hyperactive acting becomes suitable for her character. I do not feel that Chung Sau Hong challenged Deric Wan in any way. Is it just me or Deric looks more like Gallen's older brother? The minor casts such as Ah Wai, Paul Chun, Lau Dan, and Hui Siu Hung are simply amazing as usual. Great minor actors always boost up the quality of a series. We are lacking great actors like them nowadays. Unfortunately some don't act anymore or do not appear as often. Do not take them for granted! They really do make a series so much better.

Chemistry Factor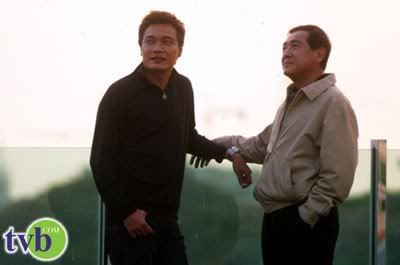 Like I had said before, the relationships in Golden are written with a lot of passion. There is not one relationship where I did not enjoy watching. Jessica's chemistry between Gallen is undeniable. When they look at each other, their eyes are shining with happiness. I will get tomatoes thrown at me for saying this. Gallen and Jessica are more compatible than Louis and Jessica. They look better physically and their chemistry is mounds much more. The chemistry between Gallen and Myolie Wu is also excellent. When Gallen looks at Myolie, all his problems and baggage just seems to float off his shoulders. In conclusion, all the relationships are great!

Theme Video





*Specials
Golden Faith Clips *Vietnamese Dubbed



Additional Comments


Like another Golden Faith, producer Tommy Leung is going to be producing the 60 episode mega production with similar casts from Golden Faith. The casts include, Gallen Lo (has yet to confirm himself), Jessica Hsuan, Raymond Lam & Myolie Wu.

Labels: Golden Faith





---
- 7:59 AM
War & Destiny Screen Captures - Episode 19

Episode Nineteen
Labels: War and Destiny
---
Monday, August 14, 2006 - 7:05 AM
War & Destiny Screen Captures - Episode 18

Episode Eighteen
Labels: War and Destiny
---
Saturday, August 12, 2006 - 7:18 AM
War & Destiny Screen Captures - Episode 17

Episode Seventeen
Labels: War and Destiny
---



Friday, August 11, 2006 - 4:21 PM

Forshadowing in Dance of Passion?



After Chun Fen (Charmaine Sheh) meets Tung Shing (Moses Chan) she runs to the 'torching place' and by bad luck, she slips into a well. Later on in the series, she is punished by having to be burnt on stake while Tung Sing is desperately trying to stop the fire. She is saved when rains comes pouring down once again. Later on in the series Chun Fen accidentally falls into a well with Tung Sing. Were they foreshadowing Chun Fen's fate after she met Tung Shing at the beginning? Or am I being too analytical?


Labels: Dance of Passion
---
Thursday, August 10, 2006 - 7:53 PM
War & Destiny Screen Captures - Episode 16

Episode Sixteen
Labels: War and Destiny
---
- 7:37 PM
War & Destiny Screen Captures - Episode 15

Episode Fifteen
Labels: War and Destiny
---
- 6:45 PM
Thoughts - Dance of Passion Episodes 1 - 8 [1-6]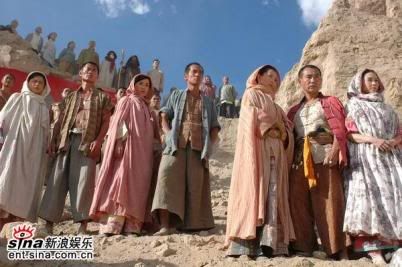 The first few episodes of Dance of Passion are a set up of the community and cultures. The dialogues are mainly how the community runs and what is permitted or forbidden. I think the writers wanted the viewers to fully understand where these people are coming from before digging any deeper into the characters and the story. Thus the talks about the cultures might have bored some but I found it interesting.

What I like about this series is that everything is shown not told. When Charmaine first encounters Moses and figures the he was just torched, she runs back to the torch to find something that his lover might have left back. TVB scriptwriters probably think we're really stupid so they tend to have the characters talk to themselves about their thoughts and what they are doing so everything is mighty easy to understand. Dance is not like that; therefore it might cause some confusion.

I think Dance is something you really have to sit down and watch thoroughly and patiently. Once you miss something a character says, you're lost and confused for the next few episodes or so. When you do become absorbed into Dance, it becomes very interesting.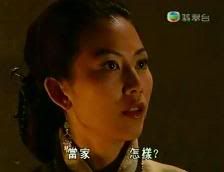 Jiu Yuk is definitely an interesting character. How this woman made herself a place in man dominating society is definitely admirable. She seems very calculating, weighing her alternatives to see which one is more beneficial. Ada Choi had little to do so far than to look mean.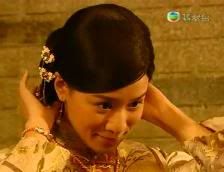 Charmaine Sheh is acting in her typical unfortunate fate character, Chun Fen. Oh wait, when was the last time she played a poor fate girl? Country Spirit perhaps? She's not as great as she was in Country Spirit, but she is still better than usual. Besides some awkward times when I felt she is trying to act cute, she is still a bit refreshing. I like her dorky smiles when she smiled at the wrong times. I think the small habits that she did like how she wiped her dirty hands on her pants and things like that suit her low-class, poor character.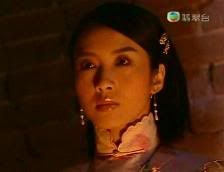 Gigi Lai as Ming Fung is excellent both acting and character. I think if she stops pausing every few seconds or so after a few words, the dialogues would be much shorter. Gigi definitely look so stunning in the midst of her rather unattractive colleagues (yes it's true, I think everyone looks rather unattractive in here even my dear Ada). Unlike Charmaine, she is more sophisticated in her dressing and movements.


Moses Chan is in his usual characters. Nothing out of the ordinary. Bowie Lam is much better in Dance than in War & Beauty where his face remained expressionless. Although Bowie exaggerates sometimes, he still came off convincingly. I'm interested in his past the most. Other actors including Maggie Siu & Kenny Wong remains bland and boring with their repetitive acting. Florence Kwok's role seems very interesting. I can't wait until she comes back. I have never liked Helen Ma particularly in Armed Reaction but in here she is great. She makes her character so spooky.




Whew, what a way to kick off the series with a blast. Moses had an affair with a widow which is forbidden. Thus his lover had to be torched while Moses had to be burn in firecrackers. Moses manages to wiggle out of his death when it starts raining. Moses survives while his lover dies.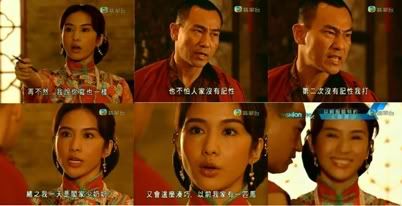 I can't remember the dialogue from the top of my mind but I think this is how it goes.
B=Bowie - G=Gigi
G: If you do not sign the divorce papers, I would continue to bring you troubles. I can read it to you and you can sign, it's the same thing.
B: I had a dog and this was how I taught it. First time he disobeys, I hit him! Second time he disobeys, I hit him! Third time he disobeys, I hit him again! There is nothing I, Man Hei can not control! One day you'll realize who your boss is.
G: If you don't divorce me tomorrow, I will burn down your house. If you don't divorce me the day after tomorrow, I will burn down your factory! Until the day you sign the divorce papers, I will continue to cause troubles for you! What? You want to hit me? Similarly I had a horse and I taught it the same way.
Bowie slaps Gigi, Gigi walks way with a huge smile plastered on her face.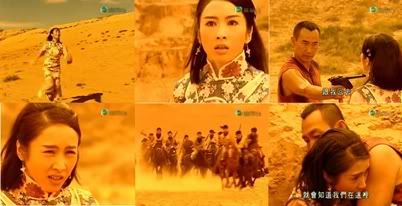 Gigi tries to run away but Bowie catches up with her. At the moment, bandits came towards them and Bowie grabs Gigi and shelters her in his arms. There is so much intensity during this scene.

"A jinx to her husband, ensured widow. Adulterous and affairs. Remains childless and sick in bed." - Chen Fun's mother

"The road ahead of me has already been set. Even it if is dim, you think I have the benefit to choose my way?" - Ming Fung

I think I should put some quotes up from Dance of Passion. They really are quotable. However I can only think of a few right now. My next post would be more organized. lol

Labels: Dance of Passion





---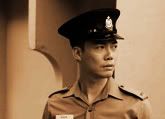 Welcome to sere.visions.com. This space is a record of my feelings and visions on the world of TVB and other random goodness. Enjoy your visit!
shoutbox
on the screen
Nothing at the moment!:( Suggestions please?

Artists









Favourites

















couples




Overviews

A Step Into the Past
Catch Me Now
Demi Gods Semi Devils 1997
Golden Faith
Land of Wealth
Men Don't Cry
Safe Guards
Secret Battle of the Majesty

strike gold performance

Dicky Cheung
Nick Cheung

memoirs

[Golden Faith] - Gallen Lo & Jessica Hsuan

archive

June 2005 • July 2005 • December 2005 • January 2006 • February 2006 • March 2006 • April 2006 • May 2006 • June 2006 • July 2006 • August 2006 • September 2006 • October 2006 • November 2006 • December 2006 • January 2007 • June 2007 • July 2007 • August 2007 • October 2007 • November 2007 • December 2007 • January 2008 • February 2008 • June 2008 • July 2008 • November 2008 • December 2008 • January 2009 • February 2009 • March 2009 • Current Posts

affiliates

Ada International Fans Club
Ada Cache Forum
Alice's Blog
Gallen Harbour
K For TVB
Its Ah Mo
Myolie Little House
Tell Someone
Sharing Asian Entertainment
Selena Fansource
TVB Bliss
TVB Memories
TVB Musings