Thursday, December 28, 2006 - 10:30 PM

=)



Boxing Week is almost over and I still haven't been at all the malls yet. :) Christmas was nice but unfortunately I had a green Christmas. There was not something I desperately wanted Santa to get me. Right now I am content with my life. Like the saying goes, 'once you get older you realize it's the memories that matter not the presents.' Honestly, I think I have grown a small belly from all the eating, chocolates and drinking. Ai, must go back to pilates routines. ;) So much for a break, I've been busy doing projects for all my classes. I hopefully I get them all completed before break ends.

I've been meaning to do captures for Romance of the White Hair Maiden for Ada-Exclusive and updating this blog during break but I have so much to do and my computer has just been rebooted so all my programs has to be installed again. I don't feel like going through the hassle to install them all. I promise, updates will be frequent in February when second semester starts.

I'm currently watching Land of Wealth and The Conquest. I am pleased with both series. I can't place what I like about Land of Wealth at the moment. The story feels real and I really like the tone of his series. The tone is a mixture of Where the Legend Begins and War and Beauty. The performances are rather good and believable. Land of Wealth has a good portion of history, poetry, and drama. The fire in The Conquest died down but it is still quite good. Joe Ma is excellent in his role. He is only good in semi evil roles. I love his sneers and arrogant expressions. It is a delight watching him. Ah, I can't wait for more schemes, betrayal and character turning points.

Labels: Random





---



Saturday, December 23, 2006 - 1:07 PM

Memoirs of Gallen & Jessica Edition i



Intro Memoirs - a new entry to recap special scenes from couples who have an undeniable chemistry on-screen. Hopefully it arouses and triggers fond memories and feelings these couples have once brought to us. Enjoy.



First Edition - Gallen Lo & Jessica Hsuan - Part One





Ivan and Rachael are both trapped in the gold mine when Ivan goes searching for Rachel who went missing after Julian (her boyfriend) tells her that he likes men not women.

Rachael: Before, I hoped this tunnel will collapse so that no one can see my embarrassed face.

[Gallen crouches down next to Jessica]

Ivan: If you had the chance to change one thing. What would you change?

Rachael: Do you think I'm still holding an illusion that Julian and I can still be together?
....
I have accepted the truth. Just give me some time, I will get over it.
...
I feel I owe you an apology for getting you involved in this. [Gallen is staring a his feet] Lucky you are still here with me at this time.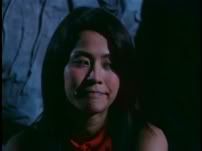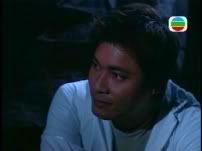 Ivan: Wow, you're mutable. First, you call me a scrum and now you apologize to me.

[Gallen and Jessica both smiles]

Rachael: How about you? If you could choose, would you prefer not to have met me?

Ivan: Some things are meant to be.

[Jessica looks at Gallen and nods her head]

Rachael: Is someone going to rescue us? Or is Julian taking this opportunity to kill both of us?

Ivan: Whoa, how you can you think of that?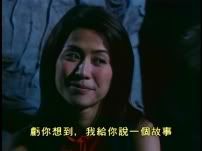 [Jessica smiles mischievously]

Ivan: Let me tell you a story. [Jessica stares at Gallen attentively] I fell into a lake once when I was young. It was raining hard that day. The sky was dark, the water was dark. I thought surely I was going to die. At that moment, I saw a star shining very brightly in the sky. Do you know that star kept getting brighter and brighter and that star gave me hope? At that moment, someone came and rescued me.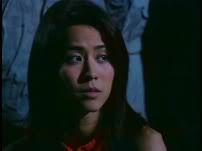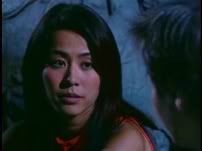 Rachel: Do you think we'll have the chance to see that star?

Ivan: As long as you don't lose hope, anything is possible.

[Flashlight is dying out]
[Jessica is looking around in awe]

Rachael- There are so many stars.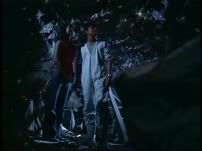 Ivan: Find the star that's shining the brightest, it's going to guide us through.

[Jessica stares at Ivan for a long moment]

Rachael – I found it. Over there. [Points in a direction]




My Comments
The stars that Rachael is referring to are actually the mines in the tunnel. For a moment, I thought Rachael for sure was going to say Ivan is her guiding star because she was staring at him for so long. :P Ivan and Rachel grow fonder of each other after this incident. They are not in love but they have a great impression of each other. I like this dialogue because of what Ivan tells Rachael when she questions if anyone is going to rescue them. Ivan tells Rachel to not lose faith when you feel that all hope is gone. This message ties in nicely with her break-up with Julian.

Labels: Golden Faith, Memoirs of Gallen and Jessica





---
Wednesday, December 06, 2006 - 6:28 PM
The Conquest - Episode One

The first episode put me in awe. It has lived up to my expectations. I was at the edge of my seat the whole time. Every minute of that episode was not wasted and full of content and not 'filler' scenes. Chun Kun looks dashing in motion, much better than he does in pictures. Everything is top notch in this series in terms of production and packaging. The costumes and props are beautiful all the way to the last bystander. It shows how much effort was put in this series by the lighting effects, filming techniques and the amount of soldiers they used in the battle scenes. TVB actually shot this series in China. I am glad they did because it makes everything more beautiful and more realistic. Besides the 3 main actors from TVB, the rest of the actors are from China. It's refreshing to finally breakaway from the same faces that we see in TVB series all the time. The director and production teams are from TVB. I think it's a good collaboration because China's scripts are usually very draggy and pointless but they have nice sceneries. TVB's scripts are usually quite good but they are lacking the beautiful sceneries or advance technology. The collaboration complements each other well.

It's not perfect. I thought Fan Li's and Xi Shi's relationship progressed too fast. The introduction is sloppy and confusing. I am impressed though. It's just the first episode only and it can go anywhere from there. If it keeps up the good progress, it is going to make it to my favourite's list.

*sigh* I can't wait for the next episode..





Labels: The Conquest





---



Monday, December 04, 2006 - 7:59 PM

It's snowing!



I pulled an all-nighter to finish my 10 page essay on the Korean War yesterday. I am so tired. I started my Nanking Massacre essay and after reading all the atrocities, I feel sick to the stomach.

On the brighter note, it is snowing outside my house. It's 10cm deep so far. Usually it snows around my area after Christmas but this year, it came early. I am going to have a white Christmas this year. =]

After reading Zhang Yu Sex-for-roles, I am worried. Of course I assumed that actresses do sleep with directors in exchange for roles. It is naïve to think that all the celebrities and stars today got up there solely based on their talent and abilities, alone. I am shocked, however, by how often it occurs. This is disturbing. *sigh*



---
Friday, December 01, 2006 - 5:02 PM
Gigi Lai's Moiselle 06 Collection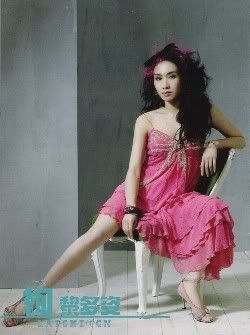 [1] [2] [3] [4] [5] [6] [7] [8] [9] [10] [11] [12] [13] [14] [15] [16] [17] [18] [19]
[20] [21] [22] [23] [24] [25] [26] [27] [28] [29]


I found these Moiselle Ads at cinple.net. I couldn't resist posting them. Big thanks to Missy and laichi.cn!



---