Sunday, January 28, 2007 - 4:59 PM
Overview : Land of Wealth

No. Episodes – 32
Year Released - 2006
Cast
Moses Chan
Steven Ma
Tavia Yeung
Sonija Kwok
Claire Yiu
Erica Choi
Rabee'a Yeung
Lai Lok Yi
Kenny Wong
Stephen Wong
David Chiang
Lau Dan
Rebecca Chan

Characters/Cast
Moses Chan as Bak Cheun
Bak Cheun is quite pitiful since he had to witness his family be executed before his eyes and not being able to save them. His family's name is cleared in the end and he becomes a successful businessman, and he is gifted with a beautiful son from Kiu Jun. Although he loved Ba Ha for a time, I believe he was over her in the end. He did not seem to give out all his heart as much as Ba Ha had. In the end, I do believe that he loves Kiu Jun the most. It is interesting watching Bak Cheun climb that ladder to success. Moses Chan surprised me. I have always liked Moses because he strikes me as a very friendly person but I thought his acting has declined over the years. He is so great in Land of Wealth and I have hope in him again. He portrayed all the sides to Bak Cheun very well and his crying scenes are well done.

Tavia Yeung as Kiu Jun
Kiu Jun is a sweet and charming lady and it is no wonder that Sung Ma loves her so much, and eventually in the end, Bak Cheun. She loved Sung Ma but after she is married to Bak Cheun, she is willing to bury her love for Sung Ma and she commits herselt to be a good wife. I believe that when two people are willing to commit themselves to one another, they will eventually grow feelings for each other. This is what happened between Bak Cheun and Kiu Jun. Sung Man holds a special place in Kiu Jun's heart but what was between them is the past and she has moved on. Who Kiu Jun truly loved in the end is arguable. I do not think she is the most pitiful character because although she has led a short life, she died in the arms of the man she loved and she gave birth to a healthy baby boy. Tavia's character is similar to her other characters but this time, her character is more sweet and girly. I can tell that she put a lot of time and effort into pulling out the perfect expressions to match Kiu Jun. She looks amazing also. She is one of those actresses who look quite pretty in normal clothes but once she puts on the ancient costumes, she looks completely ravishing. I discovered her father died during the filming of Land of Wealth. I have stronger respect for her and I am glad that it did not affect her performance. Her professionalism is something to be admired for. She has excellent chemistry with Steven Ma and Moses Chan. I would love to see her act along with them once again in the future.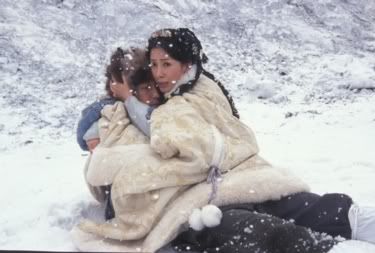 Steven Ma as Cheung Sung Man
Sung Man is the most pitiful character in Land of Wealth. Sung Man is highly educated and he tries his best to maintain justice when he was an official. It was difficult for Sung Man who is trying so hard to maintain justice to accept that his family is corrupted. Even worst, he had to arrest them, which led to their deaths. He is forced not to marry Kiu Jun. He could not tell Kiu Jun that she has misunderstood him. All he could do is watch her go on her carriage knowing that she is off to marry someone else. When Kiu Jun realizes that she had misunderstood him, it is too late. She asks him if he has married yet and he answers no. Sung Man was still single 'til that day is because he still loved Kiu Jun and she realizes that. Kiu Jun could not do anything but to give her blessings and encourages him to give Anna a chance. Did Sung Man get together with Anna in the end? It is an open ending. I do not think he got with her in the end. Sung Man understood clearly that he and Anna are just friends. Sung Man doesn't challenge Steven ma in any way. He is still great not to say he was bad but I just did not feel it challenged him.

Sonija Kwok as Ba Ba Ha Yi Ko Wai
Sonija is the female protagonist in Land of Wealth Ba Ha is half Mongolian and seems like a very upbeat and cheerful person. She is not always happy she has been hurt in the past but she buried her pain and put on a happy façade. I really liked Ba Ha at the beginning because she was a woman who loves nature, so easy to please, and so simple. I thought it was great how they showed that she is or was not always happy, that she has been hurt very bad in the past. It shows that she is human. I liked Ba Ha until she married Boon Yip and used him a weapon against Bak Cheun. I disliked her for inflicting pain on Boon Yip. He did nothing to deserve any of it. He married her because he loved her but she on the other hand, just married him out of impulse. Once Ba Ha discovers that she misunderstood Bak Cheun, she even requested to run away with Bak Cheun. What about poor Boon Yip? Ba Ha should have just sucked it up and stayed with Boon Yip. She should have taken responsibility for her actions even if she did not love Boon Yip. Kiu Jun on the other hand, although she loved Sung Ma very much, she knew that she could not just ditch Bak Cheun. She was a married woman and thus had to do her duty as a wife. Ba Ha did not realize how wrong she was until Boon Yip actually let her leave. She realizea that she could not be so selfish and leave Boon Yip alone. Ba Ha is a passionate lover who literally gives out all heart when she loves. So when she thought Bak Cheun did not want her because he wanted fame, her love turned to hatred. Ba Ha still loved Bak Cheun in the end, but he did not love her anymore. Sonija was great at the beginning and very refreshing. I quickly got bored of her after awhile as she seems to have nothing new to offer. The most I can say is she gave an effective performance. She was effective but she was not great. Her performances fall short in contrast to her colleagues.

Others
David Chang has this straight face throughout the whole series. His eyes are so dead, it is hard to guess what he is thinking. Is this how Boon Yip is suppose to be? I don't know. Stephen Wong is really adorable. I noticed him since Shine on You and I thought his acting stood out among the rest of the newcomers. He just makes you smile because he is so young and so carefree that it is adorable. He has great chemistry with Sonija and Moses. Claire Yiu is very good. Her relationship with Kenny Wong is also great.

Comments
I really like Land of Wealth because of the way the characters are written. The characters are not the typical characters that TVB usually cycles out. I thought Kiu Jun would be a rebellious and would do anything to achieve whatever she wants. It turns out that she is obedient and does as told. She grew up cultured and she was taught how to behave and what a woman should or should not do. Kiu Jun is a traditional woman and I am so happy that the scriptwriters did not make her out to be one of those characters that sneakily do things that she was told not to do. Surprisingly Sung Man was obedient and did whatever his parents told him to do and that included not to marry Kiu Jun. Sung Man is less traditional but he is a good son and I thought it is believable that while he has less traditional ideas, he is still human and he has his own flaws.



I think the tragedy of this series is the lack of trust among the characters. Ba Ha did not believe that Bak Chuan loved her and totally forgot to take into account that he threw his life on the line many times to save her. She believed that he dumped her to seek fame and money. She did not believe him when he told her he had his own reason. I do not feel Bak Cheun did not trust Ba Ha with his background and plans but broke up with her because he did not want her to be in danger because of his plan to seek justice for his family who had been convicted wrongly. Kiu Jun also had doubts with Sung Man. She misunderstood Sung Man and thought that he arrested her father so that he could become an official again. The main reason why all relationships turn sour is the lack of communication. If all the characters understood each other better, none of the tragedies would have occured.

Land of Wealth has a clever script and the dialogues are poignant with a drop of poetry every now and then. I was moved to tears several times. The performances in general felt real and heartfelt. I really like the music in this series especially the classicals. It just drowns me from all emotions once they start playing that flute-tune. It sounds very sad and fits well with the drama. I highly recommend Land of Wealth if your are the kind to like dramas with meaningful script that makes you sit back and reflect.

Labels: Land of Wealth





---
Sunday, January 21, 2007 - 4:29 PM
Guo Jian Returns


Download



The scene when Guo Jian (Damien Lau) is presented with his sword is the best scene I witnessed throughout The Conquest (as of yet). Damien's expression as he held the sword is priceless. His years of suffering, his happiness, his pride, his determination, hatred were all displayed flawlessly. An absolute classic scene even with a duration of about 10 seconds.





Labels: The Conquest





---
Saturday, January 13, 2007 - 9:49 PM
The Conquest Episodes 5-6
Episodes 05-06
Labels: The Conquest
---
Thursday, January 11, 2007 - 5:26 PM
The Conquest Episodes 3-4

Episodes 03-04
Labels: The Conquest
---
Sunday, January 07, 2007 - 5:22 PM
The Conquest Gallery
Episodes 01-02
Labels: The Conquest
---



Tuesday, January 02, 2007 - 2:23 PM

Looking Back in Anger MV






Uploaded by GEESUS493
Creator Unknown



This MV is so good. I remember my dad coming home with Looking Back in Anger and I said to him, "Why did you buy such an old series for?" I became hooked onto Anger after I looked past the horrible dubbing and very old fashion clothes. I finished watching it within a week (I finished it before my dad). It has one of the most touching storylines and boasts the most powerful performances from all the leads (except Kathy Chow). It is no surprise that Anger remains the highest rating in TVB history. It was a huge success in China and overseas. Felix Wong is great in his role and he looked so cute. I love his chemistry with Carina Lau. They have a legendary chemistry. The ending is the best part of the series. I won't give it away in case anyone decides to watch it because the ending is tragically beautiful.

Labels: Looking Back in Anger





---