Monday, August 20, 2007 - 10:56 PM
Memoirs of Gallen & Jessica - Golden Faith Episodes 10, 11 & 12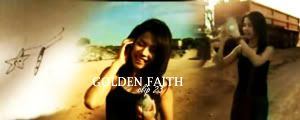 Watch Chinese

Episode Ten Gallery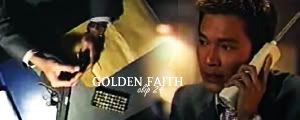 Watch Chinese/ Vietnamese


Ivan breaks off with Rachel because once again, he is in tangle with the triads who kidnapped his sister. He tells Rachel, "I've dreamt of a beautiful life [with you] but we are living in a realistic world. As always, dreams will be shattered. We are from two complete different worlds. We can never be together. Don't wait for me, I will not come." It's pitying how Ivan and his family who so wish to cut themselves from illegal business but are forced back in it again and again and again.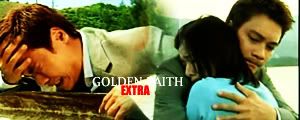 Watch Chinese


Ivan successfully rescues his sister but was forced to shoot the leader of the triad (Kwok Fung) when he nearly tossed his sister in the lake. Ivan is convinced that he has killed (although we know that he didn't actually kill him) and can't get over that. He pulled the trigger in an act of defense under a life threatening situation and it is completely reasonable and understandable but it's natural that Ivan feels distressed and guilty about it.



Episode Eleven Gallery




Watch Chinese


As Ivan tells Pong, he doesn't have the courage to face Rachel anymore (after what he has done). Rachel flies back to Hong Kong and finds out all that has happened. She confronts Ivan and goes around in circles about her doubts, how they shouldn't have dated from the start, how she can't let go. It's clear that Rachel does not want to and can't manage to say 'break up' from her lips. Ivan interrupts her and says they shouldn't be together anymore. Obviously stung by this, Rachel angrily shouts that he is selfish, he is nothing compared to her career and her family and assure him that she would not shed a tear because of him. Rachel is obviously very hurt but puts up a rough image to show him and try to convince her that she would be okay without him, but as we see, she breaks down afterwards.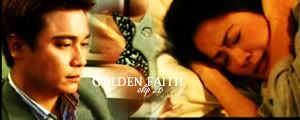 Watch Chinese

Episode Twelve Gallery
Labels: Golden Faith, Memoirs of Gallen and Jessica
---



Wednesday, August 01, 2007 - 10:32 AM

Memoirs of Gallen & Jessica - Golden Faith Episode 8



One whole episode dedicated to Ivan and Rachel.



Watch Chinese


Ivan arrives late for the court and says he's forgotten who the guy was. Ivan insists "I have to do what I have to do." Rachel is furious and makes it clear that he has chosen his path and she has chosen hers - she would not drop her principles.



Watch Chinese


Ivan is trying to make up with Rachel and tells her to put herself in his position. She turns the tables and tells him to put himself in her position. Ivan tells her he doesn't feel guilty with his decisions. Rachel questions his goodness and asks if she should always believe his word. He promises her that this would never happen again. Rachel says "Even if I trust you, I don't trust your family." This pretty settles it. It's depressing that Ivan's complicated family background is putting a barrier between him and Rachel. I really like it when Rachel says "There's that saying that love is blind. But we are both living in a realistic world." Rachel has always and I'm sure many of us would like a romantic, happy ever after love but like she says, they're living in a realistic word - she can't bury her conscience or her morals.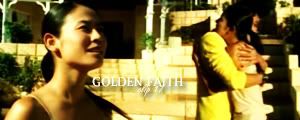 Watch Chinese


Rachel decides to take a break from work and to go on a vacation, to Australia. Many would regard Rachel's act as childish because she is running to the place where her and Ivan met. Sometimes women do stuff just to see their worth and if their partner is willing to come back. Sure enough, Ivan packs his bags and flies off to Australia. Rachel can't suppress her happiness and her smiles when she sees Ivan.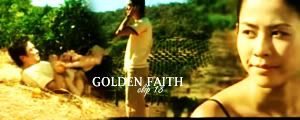 Watch Chinese


This scene is really cute, Ivan and Rachel are picking oranges and the landowners, a middle-aged couple caught them but is not angry and on the contrast, invites them over for tea. Ivan recognizes the husband and says that he looks very familiar. The husband is actually a millionaire of some sort but has decided to retire with his love one and settled for a peaceful and simple life. The wife tells Rachel, "Men will always try to conquer the world. It is not easy to leave everything behind. Not many men are like my husband and are willing to do so." Rachel casts Ivan a longing look.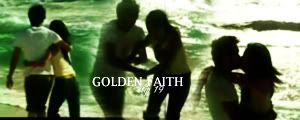 Watch Chinese


Rachel takes an opportunity and asks Ivan what his dream life is like and he tells her he barely dreams. The conversation quickly shifts to the couple they met and Ivan tell her that he admires them. Rachel tells him the she is able to leave everything behind, her career, her family and asks if he is able to do the same. He says yes, but the only regretful factor is there wouldn't be able to enjoy the 9 different ways to eat the loaf bread. The next few scenes speak of their romantic stay in Australia. Golden Faith is filmed in a fairy tale angle throughout, but has always been able to carry and maintain its realism.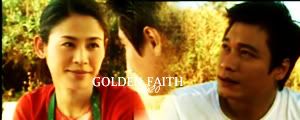 Watch Chinese

Rachel wakes up early in the morning and attempts to bake bread. The flour makes her have trouble breathing. Rachel tells Ivan that she is not going to let him have an excuse and will keep trying to make the bread until it is perfect. I think it is here when Ivan sees how much living in Australia means to Rachel. He tells her having her by his side is perfect already.



Watch Chinese


Rachel overhears Ivan talking on the phone that he will be back in Hong Kong soon. She gets angry at him and he tells her he has to go back to Hong Kong to celebrate his father's birthday. Haha, the grin Rachel has on later is cute.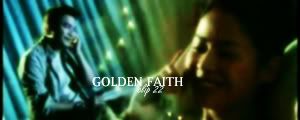 Watch Chinese


Ivan and Rachel talk about meeting Ivan's parents. They seem to be enjoying it and their future looks certain however good things can't last too soon...



Episode Eight Gallery

Labels: Golden Faith, Memoirs of Gallen and Jessica





---