Tuesday, July 01, 2008 - 12:06 PM
Overview: Catch Me Now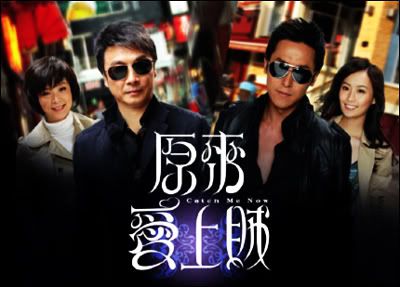 English Title: Catch Me Now
Producer: Chong Wai Kin [A Step Into the Past, Twin of Brothers]
No. Episodes – 20
Cast
Damien Lau
Joe Ma
Johnson Lee
Koni Lui
Eric Li
Al Wai
Sharon Chan
Evergreen Mak
Fala Chen
Idy Chan
Aimee Chan
June Chan
Lee Ka Sing


"Robs the rich and gives the poor
He's more than just a thief
Fights against injustice and crime
He's more than just a cop"
The Thieves


The chemistry among the thieves was evident throughout Catch Me Now. The characters all came from different places with different backgrounds but they all share the same beliefs. Their love and care for each other was shown (not told). I love all their goofing around, jokes and serious moments. They are more than just a team, they are a family.

Damien Lau as Jack Ko, "Master Mind"
After witnessing the killers of his parents living freely in this unjust world, Jack Ko firmly believes that law cannot punish (all) the bad in this world. Jack believes that there are other extraordinary methods to punish those who have breach the law and morality. Therefore Jack recruits a group of young and talented people and uses their unique skill to rob from the (evil) rich and donating their dirty money to the poor. Jack has the mind of both a cop and a thief and therefore is the one who plans, directs and leads his team.

Damien Lau gives Jack so much spunk, and so much personality. On the surface, Jack looks like an ordinary man who owns Pirates of the Caribbean Restaurant, but it is obvious that he is intelligent. Yet when we look at Jack we know that he has been through a lot, you know that he has a background. When an actor is able to let the audience know that he has a complicated background (without telling use but showcasing it), you know that he is an excellent actor. Jack is a very multi layered character. He has been through so much in his life in both family background and his love life. Damien showcased this flawlessly. His facial expressions were right on the money. He was dead serious when it came to business but hilarious and funny during his comedic scenes. I adore you, Damien Lau.

Johnson Lee as Tam Ban (BT)
A highly skilled computer technician who ranks in the top 50 in the world. He is hilarious (without meaning to be). He brings comic relief to the story. BT was so likeable. I loved everything about him. From his random English words to his Michael Jackson style wardrobe.

This is my favourite performance from Johnson Lee. His gestures, the way he walks, the way he moves his hand when he talks, the way he pauses before he answers just plainly suited BT. I love it.

Koni Lui as Wang Ming Cheug (Long Leg Crab)
Wang Ming Cheung is an actress who hopes to become big one day. Nicknamed Long Leg Crab, she is a sharp shooter. She is beautiful and uses this to her advantage.

This is Kong Lui's debut and already I love her. Long Leg Crab was designed and meant for her. Long Leg Crab was cute, often corny and a very compassionate character. She was cool and rough when need be. It is always cool to watch a female sniper. That aside, I was very impressed with Koni. Her acting was cute, she was sexy. What is so impressive about her is that she has a natural talent for acting. Her crying scenes were incredibly touching and it felt very real. I am very curious to see how Koni would flare if she is given a different type of character.



Eric Li as Che Hai Sin "Hao Lo"


Eric Li is usually typecast in perverted, bad boy roles. TVB finally gives him a good character to play. Although Hao Lo had minimal screen time compared to the other thieves, he did good with what he needed to do.

Al Wai – Kwan Yan "Keyman"
Keyman is the oldest from all the thieves (besides Jack) and therefore we often see him and Jack exchanging conversations at a higher scale of understanding. Al Wai always does well with any given role as expected from this fantastic veteran.

The Cops




The cops are not as likeable as the thieves. Aside from Gong, they lack intelligence and seemed to have little to do with little input in planning. The characters were undeveloped and lack chemistry. Therefore they were boring to watch.

Joe Ma Tak Jung – Gong Yeung
Gong Yeung is a righteous cop and strongly believes in black and white. He accidentally befriends Jack and forms at mutual friendship with him. He learns of Jack's true identity and vows to do anything to throw Jack in jail. He misunderstands Jack and believes Jack is the one who killed his mentor 5 years ago. However the truth unfolds and the misunderstandings slowly unwind. Gong finally realizes that there are shades of grey between good and evil.

I have said before that I do not expect to see the same lustrous performance that he gave in The Conquest again. I was not let down because we see another typical Joe Ma in Catch Me Now. He delivered nothing special and nothing truly bad.



Aimee Chan as Nana


Nana was annoying with her slowness, enthusiasm and stupidity. I wonder if TVB tried to make Nana a cute character as this is Aimee Chans's debut. I found Nana annoying and she was more of a hinder than a help to her team. Aimee did well but Nana was such an annoyance that her acting could have been overlooked.



Yau Dai Hoi as Lee Ka Sing


I like Yau Dai Hoi's character, Lee Ka Sing. He used to be an undercover for 10 years. I loved the conversations he had with Gong Yeung about the differences between right and wrong. (This threw Gong Yeung even in more confusion). But they were deep words which left you thinking.



Others

Fala Chen Faat Lai – Hong Mei Lai "Minnie"

I like Fala Chen and I believe she has everything required to become a fine star and actress. However, I think she needs change. Maybe a new hairstyle? Because it feels like I have been seeing the same Fala in every series. Minnie is a good character. I do not think she is naïve. I think she responded to everything in a logical and understandable manner considering her perspective and what she knows and sees. Gong pressured her to avoid Kwan Ho because he is bad. Her response is, "You tell me his is a bad person. Where's the evidence? If he is a bad person put him in jail! In the meantime if you don't have evidence to prove that he is bad, you don't have a legit reason to tell me not to befriend him." Not her exact words but you get the point.

Idy Chan as Bao Yung Yung


Bao Yung Yung is naïve and often trusts others too quickly or too much. She is caring and hardworking. Hence, she is a good friend to have.

I love Idy Chan in

Return of the Condor Heroes

. She was so beautiful and her acting was on the top. This is Idy's first comeback since her retirement from the showbiz. As expected, her acting was raw and her facial expressions were stiff and at times, unsuitable. There were times when she was smiling when she should have not been. Her facial expressions just did not feel right at the moment and it came off as awkward. As the series progressed, her acting became a lot better and more natural.

Final Comments
Catch Me Now
had its moments; action, laughter and tears. The robbing scenes were riveting and kept me at the edge of my seat. The schemes, the planning were so clever and exciting. I adore the characterizations and rapport, particularly with the thieves. They were fun to watch as each character was different and unique in their own way. I love the bickering between BT and Long Leg Crab. I was hoping that BT would eventually love her but his heart was already with someone else. The chemistry was present between Koni and Johnson. And I did cry when BT died. His death in the car and the hospital scene that followed touched me and I'm sure everyone. The acting and tears from Damien and Koni were realistic. They were lost and distressed. It is completely understandable that none could continue living if they did not avenge for BT.
Complaints
While
Catch Me Now
is a clever series, I couldn't help but roll my eyes whenever Gong (Joe Ma) and Minni (Fala Chen) argued. Their misunderstandings just became ridiculous and irritating as both refused to sit down and talk it through.
Yung Yung's (Idy Chan) back story pulled down the quality of
Catch Me Now
. Her story and her problems were anything but interesting. I was irritated and could careless about the fate of her character and her son.
Nevertheless despite these subplots where I could careless, there is no denying that they it was necessary but I couldn't help but groan at these particular scenes.
Verdict
Catch Me Now
held its purpose from beginning to end. It did not lose its merit and direction. I loved it from the go to the finish. It kept my hooked and entertained. I fell in love with the characters because of their wonderful portrayal and characterizations. Every character tied into the story, winding in the schemes and plans to produce an outstanding classic.
Theme Video
Labels: Catch Me Now
---